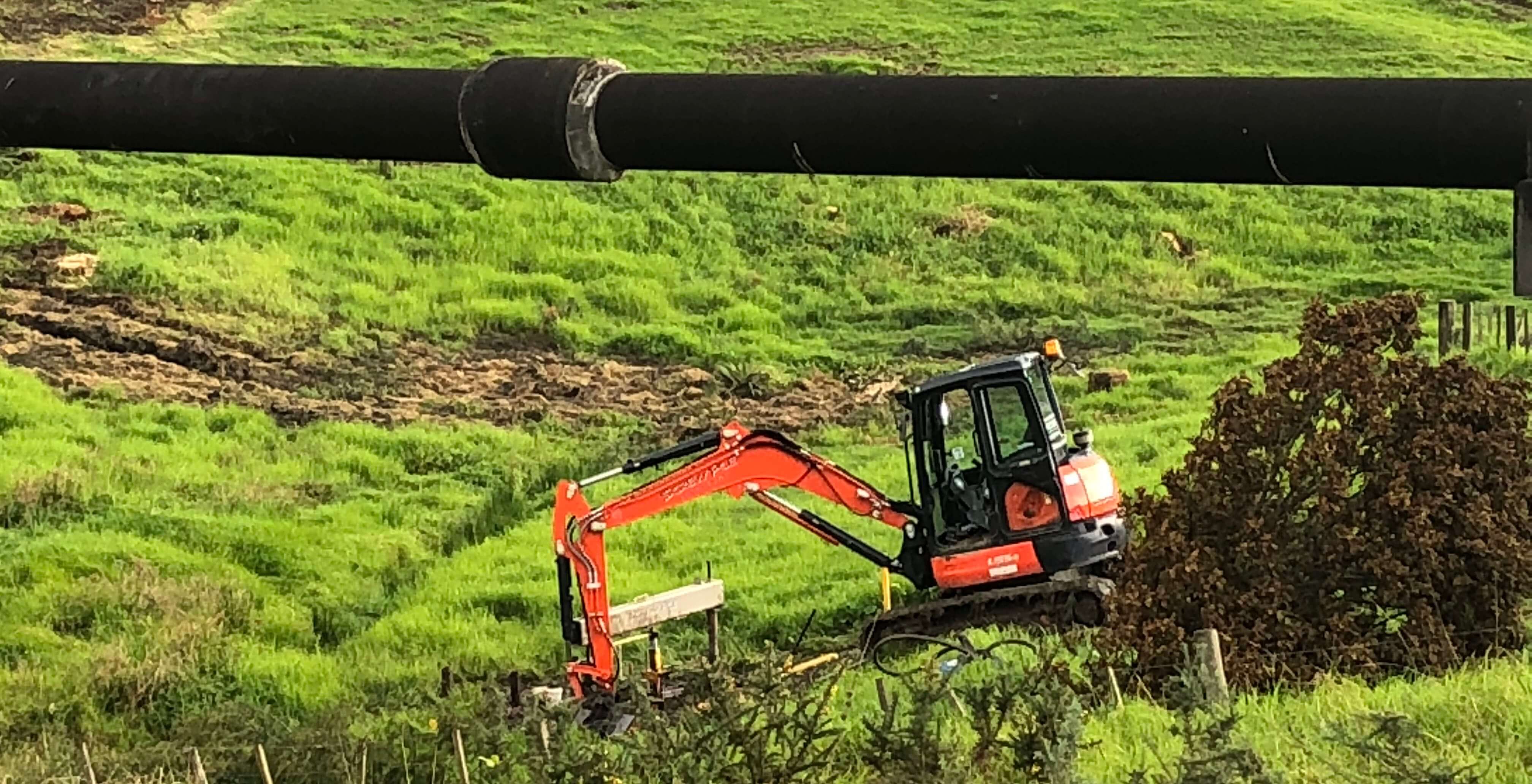 SEWER LINE SUPPORT
Screw Pile Solutions were recently engaged by Fulton Hogan to install the screw piles for temporary structures beneath the sewer line adjacent to Constellation Reserve in Rosedale for the The Northern Corridor Improvements Project.

Temporary structures have been designed beneath the overhead sewer line as a safety net in case any damage ever occurred during the works on the Western Ring Route. The two temporary structures comprise of a metal frame which is bolted to a concrete slab with screw pile foundations.

Screw piles were chosen due to their unique ability to be removed as easily as they are installed. This is a great advantage for a temporary structure. When the structure is ready to be dismantled, the concrete slab is demolished, then the piles can be simply removed from the ground as they are installed, with minimal mess or fuss.

The most important factor of this install, was being very much aware of our surrounds. We were working directly beneath the sewer line, so upmost care was taken to ensure we worked as low as possible, and kept the boom of the screw pile excavator as far as possible from the line. We were not prepared to test out the strength of the sewer line structure!

Each slab has six 10-15T piles (88.9mm diameter pile with a 350mm diameter helix), providing approximately a 70T loading. The photo shows the installed piles being cut to height, ready for the concrete slab.

Testing of the piles were carried out at each location post install to ensure that the correct loadings had been achieved. All piles easily meet specified loadings.

Weather wasn't on our our side for this install, it made for very wet access and we looked like drowned rats, but that didn't stop our team completing the the project within two days.

We look forward to completing further works with Fulton Hogan in the future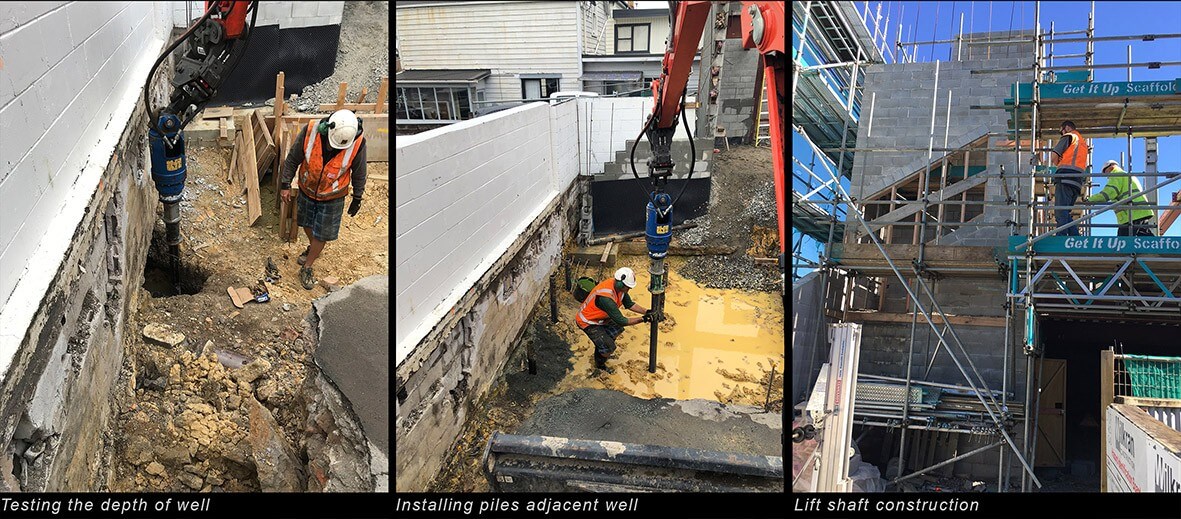 SCREW PILES QUOTED AS "AN INSPIRATIONAL CHOICE"
Screw Pile Solutions were recently called in to a commercial project that was already under construction in Ponsonby. Major foundation works had commenced, when a substantial man-made well was discovered immediately below the proposed concrete lift shaft. In addition to the concerns of the structure of the lift shaft foundations, there were serious concerns regarding the potential collapse of the adjacent wall, car park and disturbance to tan existing sewer line.

Screw piling was seen as a great solution as the piles could be installed with precision and minimal ground disturbance in an extremely confined area.

Markplan Consulting Ltd was called in to design the screw pile foundation system. To start with, a temporary screw pile was installed into the centre [of the now filled] well to discover the original depth. This depth needed to be known so that we could ensure the foundation piles would go down deeper than the base of the well.

At a depth of 12.5 metres, utilising 88.9 x 6mm screw piles with a 350mm helix, 12 piles were installed adjacent the 12m well so that the concrete slab foundation of the lift shaft could be poured and tied into the screw piles.

Following the Screw Pile installation, the construction was able to continue and prevented major delays, with Project Engineers Thorne Dwyer commenting to his client and Architect: "An inspirational choice!"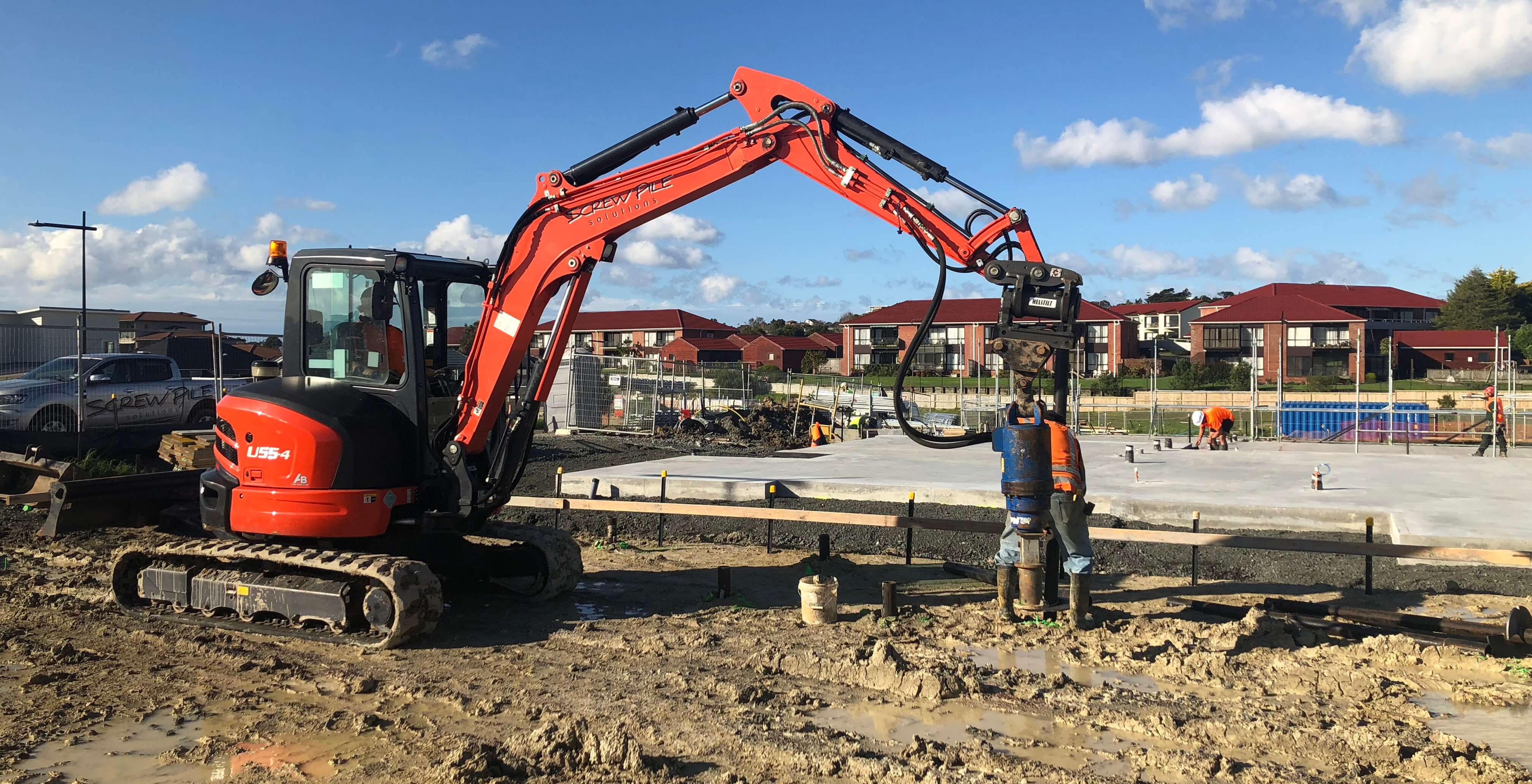 RED BEACH DEVELOPMENT – RAFT SLAB FOUNDATIONS
Fletcher Living is currently undergoing a development in Red beach for 520 new homes. These homes are a mix of 3/4/5 bedrooms, single and two story and stand alone and terrace housing.

Screw Pile Solutions where approached in the early stages of stage one to undertake the installation of screw piles for a selection of houses with raft slab foundations and also for bridging of services beneath house slabs. This ranged from 3 piles to a full house lots of 30 odd piles.

Screw Pile Solutions were able to install at the specific house lots with minimal notice due to the earlier heads ups in the programme that we had won the project so stock was secured.

The screw pile installation for each foundation took a day or less. Enough stock for 3 house lots was able to be stored on our truck on site which saved on transportation and travel costs.

We have provided a very time efficient service for for this Fletcher Living and hope that we can continue to do so throughout the project.